I've not been so much active on the blog lately, mainly because most of my free time was devoted once again to the Dexter Blog Engine project.
My good friend and project leader Ugo Lattanzi was going through a complete rewriting of the blog engine (the guy is a damned coding machine!) and he asked for help cause we also had a deadline to finally release a build (which we ofc missed

, it's just delayed don't worry...it will come...sooner or later).
Anyway we managed to complete the porting the of the Microsoft's QuiBrowser blog in time and we can proudly say that it is now powered by Dexter Blog Engine, it feels good when you see your work in action, so here it is a screenshot: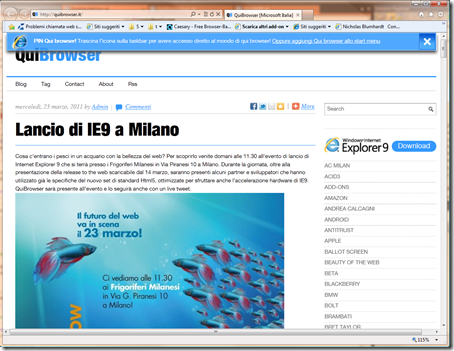 If you take a look at the source code and compare it to the previous version you will see it's totally different, in our opinion this new version will be much faster than before (there's still some areas in which we can improve, but we'll work on it). Among the news this version brings on the fields we have:
built on ASP.NETMVC 3
a newly reworked skin that takes advantage of the features that HTML5 offers
support for Windows Azure around the corner
persistence layer realized with NHibernate + ConfORM (big thanks to Fabio Maulo for the help)
more little things I keep forgetting
In short if you are now curious about it, go take a look to the project and leave us some feedback.
I'm really looking forward to trash the actual Dexter build I'm using on this blog to switch to the brand new shiny one

Related Content